World Oceans Day is a day for celebrating, protecting and conserving the world's oceans. 'The purpose of the Day is to inform the public of the impact of human actions on the ocean, develop a worldwide movement of citizens for the ocean, and mobilize and unite the world's population on a project for the sustainable management of the world's oceans.'
Resources
Here at readilearn we have many turtle-themed resources which are suitable for celebrating World Oceans Day, including:
Let's find out about Sea Turtles, an interactive ebook.

What do you know about Sea Turtles, an interactive quiz based upon information in the interactive book.

Ten Tiny Turtles, an interactive lesson for teaching addition of numbers up to ten.
Turtle Island — a directions game, encouraging children to follow directions including forwards, backwards, left and right.

Turtle domino cards, turtle-themed domino cards to print, play and use in many maths activities.
Interviews with authors and illustrators
And check out the interviews with authors and illustrators whose picture books encourage caring for the ocean and its inhabitants, including:

Kim Michelle Toft, author and illustrator of numerous picture books which encourage a curiosity and concern for the marine environment. Her beautiful silk paintings are stunning works of art.

Anne Donnelly, author and illustrator of Ori's Clean-Up which provides children with strategies for keeping our oceans clean.

Renee Hills, author, and Anna Jacobson, illustrator of Turtle Love, a gorgeous picture book about caring for turtles.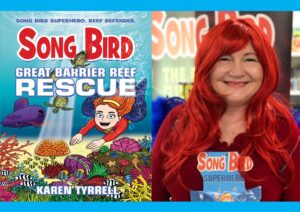 Karen Tyrrell, author of the junior fiction chapter book Song Bird Great Barrier Reef Rescue.