The importance of starting out right with classroom organisation
Starting the year out right requires preparation and the establishment of classroom organisation routines that will assist the first and subsequent days run smoothly.
An organised classroom contributes to a supportive classroom environment which, from day one, builds a strong foundation of positive relationships and attitudes to school and learning.
Beginning the year as you wish it to continue with a welcoming organised classroom helps children and families feel valued and comfortable in a warm and predictable environment.
Teaching resources support classroom organisation and management
Many existing readilearn resources assist teachers of the first three years of school organise their classrooms to be welcoming and supportive.
A new interactive resource extends the collection.
The Who is here today? Interactive chart is ready to be personalised with the names of children in your class and used on the interactive whiteboard. The chart can be used as an unofficial record of attendance and help children learn to recognise their own and others' names.
It can also be used in literacy and maths lessons to help teach alphabetical order or to order the names according to the number of letters in each. Ideas for using the resource can be accessed from within it.
Before school resumes
It would be unwise and unusual for any teacher, other than in exceptional circumstances, to leave all preparation until the first day of school. Teachers begin work long before the school year begins, considering things such as the arrangement of tables and children, the storage of items and classroom displays in addition to behaviour expectations and content and strategies to be taught.
readilearn teaching resources and activities support teachers and help to reduce their workload in this busy time of year.
Organising children's books and equipment
In many schools, children are required to supply their own equipment such as books, pencils, scissors, glue, paint shirts and even tissues.
Whether or not children are required to bring their own supplies, it is useful to have spares available for them to access when necessary. I recommend having spares of everything the children are required to have as well as multiple sets of scissors, pencils and glue.
If children arrive in the classroom with a bag or box full of equipment, organising their items can rob precious relationship building and learning time. Having a strategy ready helps relieve the pressure and contributes to an enjoyable day.
For example, allocate and label shelves for storing children's surplus supplies, items that won't be required during the first few days, or items that will be stored collectively, like paint shirts and boxes of tissues.
Asking parents to sort their children's belongings according to the labels when they arrive on the first day saves a lot of time but requires little effort on the part of each parent.
In addition to printable labels, the free resource Labels for organising children's classroom supplies suggests how this may be done.
To store children's spare pencils, scissors, glue, and other small items, label a large resealable food storage bag for each child and place it on the desk along with the welcome letter and other items (see below). Collect the filled bags and store them, organised in order of the roll, in a large tub. This makes each child's equipment easy to find when another lead pencil or other item is required (though at times it may be best to lend a spare rather than interrupt a lesson).
The use of similar equipment for different subjects and purposes can be overwhelming for some children when they begin school. It can be difficult to tell one book from another. Printable book labels help children identify which book is for which subject and ensures they always have the correct book. Attach labels to the books after collection and prior to redistribution to the children.
Organising the classroom
The free resource Getting ready for the first day with Busy Bee resources lists some readilearn resources and suggestions for using them; including:
Busy Bee Welcome letter template
Busy Bee Who is here? – chart heading
Busy Bee Find your name – poster
Busy Bee I am . . . first day of school worksheet
These resources are available to download individually, or as a collection in the zip folder Busy Bee – Welcome resources for Day one.
Display the Welcome sign on the door, with children's names if known. Add photos during the day.
Place Welcome letters on desks for children (if names are known and if children are to have their own desks). Seating arrangements can always be changed later, but it is good for children to have a space which is theirs initially. You may wish to add a desk name, a name badge on a lanyard, and a small welcome gift like a pencil or eraser (if you intend to allow use of them).
Preparing activities
Make sure you have enough resources and activities, including stories, songs and games, prepared to use throughout the day.
Include some whole class time (for getting to know each other, discussions, stories, songs and games), some seat work, and lots of opportunities for play and exploration of the classroom. Children need time to settle in, and to get to know you and their classmates. It is good to provide some group activities as well as free choice activities, including things; such as,
Book corner
Play dough
Blocks
Jigsaw puzzles
Collage
Drawing
Weighing activity with scales
Time spent on these activities in the beginning can mean more effective use is made of time in the future.
Make sure you have everything you need ready to hand, with more than enough ideas to fill the day – just in case things go quicker than planned, or don't go to plan.
Beginning the countdown for celebrating 100 days of school
Get ready for counting the first 100 days of school with a 100 board and a system for counting the days; for example, the interactive digital Busy Bees 100 chart and other suggestions in Busy Bees celebrate 100 days of school.
Getting organised for birthdays in the classroom

Children always love to celebrate their birthday and it is easy to acknowledge them in the classroom using the Busy Bee Birthday chart and Happy birthday badges.
For other birthday resources; including an interactive birthday chart, birthday certificates and cards, and a birthday word search, check out the Birthday resources in Cultural Studies.
Welcoming the children
Greet the children and their families as they enter the classroom. Quickly explain the procedure for example; find their desk, put some belongings in it, and store surplus supplies on shelves where indicated. Ensure parents have written the child's name on every item (including every pencil) before they leave. Hopefully, most parents will have already done this at home.
Encourage parents and families to say farewell to their children, reassuring them they'll be back later to pick them up (or remind them of alternative arrangements), and leave promptly so the day can begin.
Getting the day started

A song or a movement activity is always a good way to start the day and to get everyone settled. (Special As I Can Be by Anne Infante is one of my favourites.)
Introduce yourself and explain what the children can expect of the year and what your classroom expectations are, including behaviour and work ethic. Tell them how happy you are to be their teacher and how much fun and learning you will have during the year.
Call the roll or mark attendance. If you ask each child to stand and say good morning to everyone, and have everyone say good morning back using the child's name, it helps the children get to know each other, and helps you remember their names. You may also encourage each child to say something about themselves; for example, I like playing soccer or I went to the beach during the holidays.
Have children draw a picture of themselves; for example, using the Busy Bee I am . . . first day of school worksheet. This provides information about their self-image, their pencil control for drawing and writing, whether they are able to write their name and if they know their age and can write the number. It also provides a record that can be used for showing progress later in the year.
Making photographic records
While they are drawing and writing, take a photo of each child and print two copies. Attach one photo to the worksheet and the other to the Welcome Sign on the door. Display the worksheets in the classroom.
Displaying children's work right from the beginning helps them to feel valued and gives them a sense of belonging and ownership of the classroom space.
The photos can also be used to make a photo book of the class which is great for developing a sense of community and helping children to learn each other's names. It can be read on the interactive whiteboard or printed to be read in the reading corner or taken home to share with family and friends.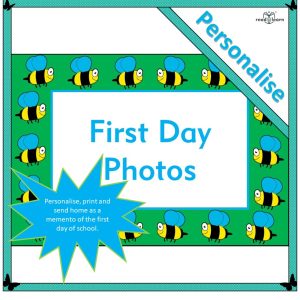 The photos can also be printed to take home to keep as a memento of the First Day. 
Becoming familiar with the school environment
Before the first break, take the children for a walk around the school, showing them places they need to know; for example, toilets, lunch areas, the canteen, the office, other classes, the library, and play spaces.
Show them how to get to and from these places. Explain rules and behaviour expectations so that children know what they may and may not do. It is no fun "getting into trouble" because you don't know the rules. (Rosie's Walk by Pat Hutchins is a good one to read before doing the walk around the school.)
As the day progresses
Throughout the day, it is important to make plenty of time for reading to the children, at least one story each session. A love of books and reading is contagious and the only way of passing it on is by sharing.
If children have their own desk and tidy trays, show them how to organise their trays. Visual reminders are helpful. Have the children follow directions to place items in their drawers. It is useful to store larger items such as scraps books at the bottom, and a pencil and glue stick ready to use in the front of their trays. The arrangement will vary depending on the type of trays you have available and the equipment children have.
It is a good idea to include some maths work on the first day. Counting activities using the 100 board, or counting games that require little equipment and preparation are fun.
You could also fill in a birthday chart, inviting the children to write their names in the correct month. This leads beautifully into making a graph showing how old the children are.
This suggestion is explained in the free Getting to know you surveys, a resource which includes other great surveys for the beginning of the year; including, my favourite colour, the number of letters in my name, and the number of people in my family.
If possible, leave the last session for individual choice and group activities as suggested above.
Home time
Send the children home happy and bubbling with excitement about their day, eager to return for more the next day.
Time for reflection and discussion of the day's events and achievements reminds children of things they can tell their families.
A chant or song sends them out happy.
A short newsletter to read to families can also serve as a reminder and include any messages that need to be relayed.
Learning activities for the first weeks
A readilearn subscription allows you to choose lessons and activities from the full range of interactive and printable resources which are available; including:
The Clever Children – an estory
The Clever Children – printable
Alphabet of Positive Descriptive Words
Busy Bees Little Readers and Activities
Scroll through the resources in each category to see what other readilearn teaching resources are available to lighten your workload.
Accessing readilearn teaching resources
I hope you see the value in these readilearn resources assisting you to have your classroom set up and organised for the beginning of the school year. Many of them are free to registered users. Others are exclusive to subscribers. If there are any other items that would assist you, please let me know so that I can add them to the collection.
Have a wonderful year.
Show children the joy there is in learning
and how empowering it can be.
Reminder: Blog posts such as this with useful teaching suggestions are published each Friday. They are a great way of finding out about new, as well as existing, teaching resources from readilearn. Access to blog posts is free.
Many free teaching resources are also available in the readilearn collection. All we ask is that you register to start using them.
For a small annual subscription (less than 10 cents for each resource) you can access all readilearn teaching resources for the first three years of school, including resources for use on the interactive whiteboard.
Register now to begin using free resources, or Subscribe for access to all resources.
A readilearn subscription makes a great gift for a beginning early childhood teacher. Contact me at hello@readilearn.com.au for details.
readilearn: teaching resources for the first three years of school 
Resources beyond worksheets – lessons for teachers made by teachers.
Let readilearn lighten your workload.
I appreciate your feedback and comments. Please share your thoughts in the "Leave a reply" box below.
If you enjoyed this post, follow by email to make sure you don't miss another.
Follow Blog By Email
---