Another month down. While I'm not wishing time away (I think most of us would always like more of that), I'm hoping that, as we step into this last quarter of 2020, we are stepping closer to a world free of restrictions, lockdowns and Covid-19. I'm sure you are all with me on that.
October begins in a wonderful way with World Smile Day on the first Friday in October — this year, 2 October. The day is a great reminder to spread smiles and share kindness with others. One of the best ways to spread smiles is by having an open heart and being friendly towards others.
Here at readilearn, we have many resources you can use to teach your children friendship skills and encourage them to get along with each other. Resources include:
You can find these and other resources for teaching friendship skills in the Character Development collection here.
Love your Bookshop Day on 3 October provides is a perfect opportunity to support and celebrate what you love about your local bookshop. While many businesses are struggling to stay afloat during lockdown, you can support your local businesses, authors and illustrators by purchasing from local bookshops, either instore or online. Why not stock up on books for gifts, for yourself and others, for the rest of the year?
World Space Week, which runs from 4 – 10 October this year, celebrates satellites with the theme Satellites Improve Life.
Although we may not think about it often, satellites play an important role in our daily lives. They are used in communications, monitoring the environment, transportation, weather forecasting, telemedicine, science and many other ways.
Satellites is a term that refers to human-made objects that orbit Earth.
These are just a few of the many ways that satellites assist our everyday lives. They:
Transmit television signals into our homes
Relay news reports and interviews from around the world
Transmit our phone calls and SMS messages
Link us to the internet
Help us navigate using digital maps to find our location and provide us with directions
Monitor changes in the environment
Monitor the effects of climate change
Forecast the weather
You will find some useful links in the World Space Week Resources for Educators, though some of the links don't work and many of the activities are more suited to older children.
Maybe you could read and discuss the picture book Cinderstella by Brenda Miles and Susan Sweet,
make a moon cake,
or try one of these 20 Quick ideas for teaching and learning about space.
World Teachers' Day on 5 October is a celebration of the contribution that teachers make to society and our future. This year has been a tougher than usual year for teachers and, in this time of uncertainty, I think it is especially important for the efforts of teachers to be acknowledged and for teachers to feel valued and supported in their work.
It's a great time to acknowledge their input and say, "Thank you". A small card or personalised letter to let them know they are appreciated is often enough but, if you are thinking of a gift, most teachers love stationery and craft items. Depending on your budget, a little bit of pampering doesn't go astray either.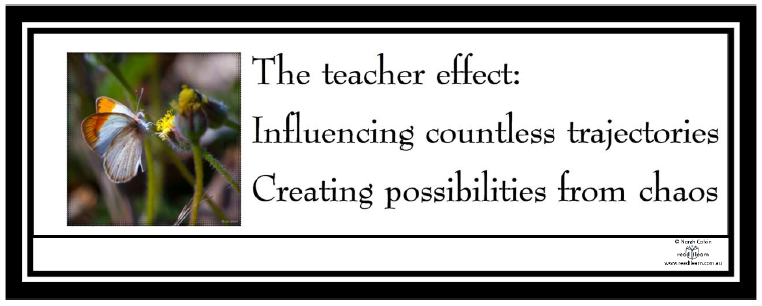 Why not print out a free Teacher Effect bookmark, or gift a subscription to readilearn to show your appreciation (contact us for details).
Note: In Australia, World Teacher's Day is celebrated on 30 October, possibly because many of the states are enjoying school holidays on the 5th.
Ada Lovelace Day is celebrated on 8 October. Ada Lovelace is recognised as the first computer programmer and the purpose of the day is to recognise the contribution of women to STEM. Ada Lovelace was born over two hundred years ago. She was the daughter of poet Lord Byron and had a combination of her father's imagination and her mother's interest in mathematics, science and machines.
Read to your children about Ada Lovelace in the beautiful picture book Ada Lovelace Poet of Science written by Diane Stanley and illustrated by Jessie Hartland.
International Day of the Girl Child is celebrated on 11 October. The theme for this year is My voice, our equal future. This theme encourages us to "reimagine a better world inspired by adolescent girls – energized and recognized, counted and invested in." The reimaging is through one love that creates a fairer world for every child.
UNICEF has teamed with other partners with the aim of preventing the COVID-19 pandemic from being a lasting crisis for children. Find out more here.
One of the partners is the family of Bob Marley whose song One Love has been reimagined by Tuff Gong International and Amplified Music.
Due to the lockdown, this year's celebration of Children's Book Week was rescheduled from 17-23 August to 17 – 23 October. This year's theme is Curious Creatures, Wild Minds. You can find many useful resources on the CBCA website here.
Grandparents Day is celebrated on different days around the world. In Australia, each year it is celebrated on the last Sunday in October. This year that's the 25th October.
The purpose of the day is to celebrate the bond between grandparents and grandchildren and acknowledge the contribution that grandparents make to our communities. While it may not be possible to invite grandparents to the classroom for a special celebration this year, there are other ways to celebrate grandparents, for example:
Read stories about grandparents
Make a card for a grandparent
Write a letter to a grandparent
Halloween, celebrated on 31 October, probably requires little introduction as it is celebrated in many countries around the world. For classroom suggestions, refer to the post Trick or Treat – It's Halloween, and check out the printable Trick or Treat board game, (now with everything you need together in one downloadable folder) and other Halloween-themed resources, including:
How Many Treats? an interactive addition lesson for use on the interactive white board.
Who Has More? an interactive resource for comparing numbers to ten.
I wish you all a wonderful October.
This list of October Days and Events is now available to download and print free from readilearn teaching resources.
While you are here, remember to check out the complete readilearn collection of
over 430 teaching resources for the first three years of school
Resources beyond worksheets – lessons for teachers made by teachers.
Let readilearn lighten your workload.
If you haven't already, follow @readilearn on Twitter and readilearnteachingresources on Instagram and like the readilearnteachingresources Facebook page.
I appreciate your feedback and comments. Please share your thoughts below.
Follow Blog By Email
---