Today is a day to celebrate. It is both World Teachers' Day and World Smile Day. What a great combination. In addition, these special days also coincide with World Space Week which is celebrated from 4 – 10 October.
World Teachers' Day
World Teachers' Day celebrates the contribution that teachers make to education around the world.
This year's event marks the 70th anniversary of the Universal Declaration of Human Rights (1948) in which education is recognised as "a key fundamental right and establishes an entitlement to free compulsory education, ensuring inclusive and equitable access for all children".
This year's theme is "The right to education means the right to a qualified teacher."
According to UNESCO, "One of the main challenge [sic] to this right worldwide is the continued shortage of teachers. There are an estimated 264 million children and youth still out of school globally, and according to the UNESCO Institute of Statistics, the world needs to recruit almost 69 million new teachers to reach the 2030 education goal of universal primary and secondary education. This 'teacher gap' is more pronounced among vulnerable populations – girls, children with disabilities, refugee and migrant children, and poor children living in rural or remote areas."
If you wish to support organisations that provide education for people in need, this list on informED might be a good place to find one. I'm sure there are many more and perhaps some closer to home. The focus of The Smith Family, one of the organisations I support, is on helping disadvantaged Australian children get the most out of their education so they can improve their futures.
Having spent almost all my life in education in a variety of roles; including student, teacher, teacher support and educational writer, I know how hard teachers work and the importance of the contribution they make to each life they touch. I also know that sometimes they work in situations that cause them much stress, in which they don't feel valued, and are unsupported. Sadly, more and more experienced teachers are leaving the classroom for these and other reasons, which will only make it more difficult to reach the 2030 goal of universal education.
As part of my recognition of the amazing work teachers do and to spread a few smiles, on this World Teachers' Day 5 October 2018, I am offering an annual subscription to readilearn at half price. If you wish to take advantage of this offer, simply use the coupon code 'amazing' at the checkout.
Make sure you let your teacher friends know about this special offer.
If you'd like a certificate to gift a half-priced subscription to a teacher, email me to arrange it.
If you are already a subscriber. Thank you. If you'd like to take advantage of this offer, email me and I'll ensure your next year's subscription renews at half price.
This free offer is for one day only and expires at 11.59 pm on Friday 5 October 2018.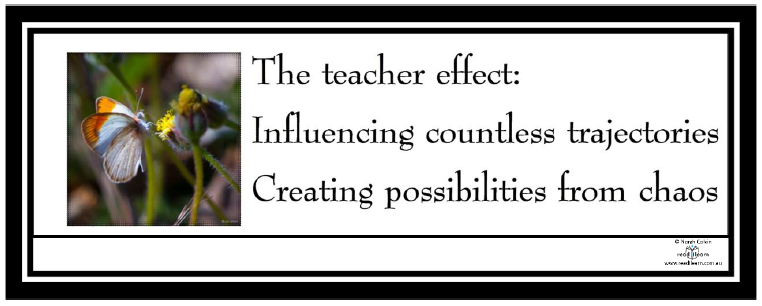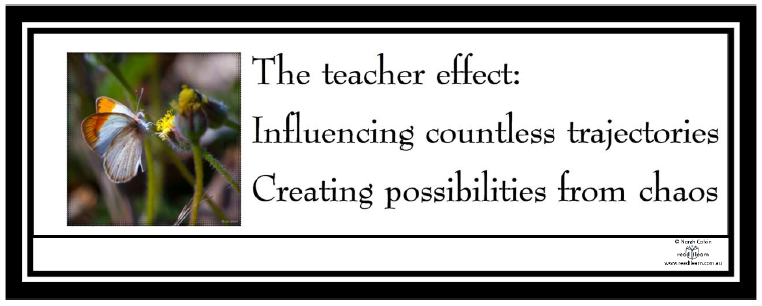 This teacher effect bookmark is available to download and print free. It can be given to teachers as an acknowledgment of their work.
World Smile Day
The purpose of World Smile Day is to encourage everyone to be kind to each other and to spread goodwill and happiness. I like the thought that something as inexpensive as a smile, that can be shared an infinite number of times and never be exhausted, can have a positive impact on the world.
Teaching friendship skills is an ongoing focus of readilearn. In fact, it has its own page in the Character Development resources.
I have written about friendship skills in these posts:
Early childhood resources for celebrating friendship
Learning to be friends to combat bullying
Learning to be friends — unleash your friendship superpower
Each post includes links to resources for teaching friendship skills, including:
Friendship Scenarios — Discussion starters
World Space Week
World Space Week is the world's largest celebration of space with almost four thousand events occurring in eighty countries. Check the list for events near you. This year's theme is "Space Unites the World" with the intention to "promote cooperation between spacefaring and emerging space nations and help space exploration activities become open and inclusive on a global scale".
I previously wrote about space in A view from space and interviewed authors Brenda Miles and Susan Sweet about their space-themed picture book Cinderstella. Space-themed readilearn teaching resources include:
20 Quick ideas for teaching and learning about space
There are many other great resources available on the internet; including:
World Space Week website
National Science Teachers Association newsletter
ABC Education Space and our Solar System
This week I have uploaded three new resources to the Goldilocks suite, including:
Goldilocks and Friends — Character cut-outs
readilearn: teaching resources for the first three years of school
Resources beyond worksheets – lessons for teachers made by teachers.
Let readilearn lighten your workload.
Subscribe now for access to all readilearn resources (remember to use the coupon code 'amazing' today only (5 October 2018) to receive your first year's subscription at half price.
or Register to begin using free resources.
If you haven't already, follow @readilearn on Twitter and readilearnteachingresources on Instagram and like the readilearnteachingresources Facebook page.
I appreciate your feedback and comments. Please share your thoughts below.
Follow Blog By Email
---