Next Monday 14 February is a day with much to celebrate. As well as Valentine's Day, it's Library Lovers' Day and International Book Giving Day.
It's not difficult for me to talk about love and books in the same sentence as I have loved books for as long as I can remember. Although my reading habits have changed over the years, I have always been an avid reader and was a dedicated borrower of books from the library as I was growing up.
As an adult, I tend/ed to purchase rather than borrow for my own reading and could never pass a book shop without purchasing something for me, a family member or friend, and a picture book or three for my classroom collection. Books borrowed from the school library filled out the classroom library.
A birthday, Christmas or other occasion never passed without giving and receiving books. So, being able to combine the celebration of love, books and an appreciation for libraries is a treat. Nothing could be easier. Simply take someone you love to the library and gift them a book.
Valentine's Day probably needs no introduction. In many parts of the world, it is a day for celebrating love and romance. Gifts of chocolates, flowers and verses in cards are often given.
Of course, in the classroom, our discussions aren't about romantic love, but that doesn't mean we can't think about those important people in our lives whom we do love.
Children can write their own "I love" poem by innovating on the traditional camping song I love the mountains.
The resource Write your own "I love" poem includes everything you need, including:
teaching suggestions
a copy of the poem that can be displayed on the interactive whiteboard
a template that can be used for collaborative writing, or printed for children's own writing
a chart for brainstorming things children love
a ready-to-print card in which children can publish their poems.
Children could also make an I love you this much card to gift to a parent, carer or someone they admire. Perhaps a librarian.
We have a heart-shaped book template that children could use to make a book to gift. After all, it is Book Giving Day too.
These are five of my favourite picture books about love:
Guess How Much I Love You by Sam McBratney and Anita Jeram
Love You Forever by Robert Munsch and Anthony Lewis
I Love You with All My Heart by Noris Kern
Sun Kisses, Moon Hugs by Susan Shaefer Bernardo and Courtenay Fletcher
Koala Lou by Mem Fox and Pamela Lofts
What a perfect match — the theme for the Library Lovers' Day this year is "Show the love".
As explained on the website, "It's a day to remember that our libraries are a place where we can get lost in an idea we are following, find an adventure we are seeking in a book, discover more about an issue we feel passionate about or get help from someone about something we want to know. These are all the reasons (and more) to celebrate the valuable roles libraries play in our lives and to re-engage with our libraries and 'show the love'."
The children could make a card or write a letter to the school (or local) librarian to tell them how much they are appreciated.
The website has some PDF printables you can download; including a poster, some bookmarks, a picture to colour and some stickers.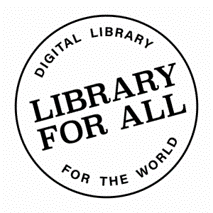 Of course, another very special library, with a mission close to my heart, is Library For All. I wrote about it in this post. I am delighted to have contributed fifteen titles to the collection which is free for all to access online. Have you checked out the collection of thousands of titles to see how you can use it in your classroom?
In this talk, author Neil Gaiman explains why he thinks libraries are one of the most important things there are. It's easy to agree with him.

When so many schools are doing away with their libraries and librarians, it would be good to ask children their opinions and, if they are so inclined, to write letters to the school principal or local member asking for libraries to be maintained.
Michelle Worthington's junior fiction chapter book Sass and Traz Save the Library is a great one to read to your class or for your more able readers to enjoy independently. (Note: You can find teacher notes, written by me, by following the Sass and Traz link on Michelle's website here.)
Other books that celebrate libraries, books and words include:
Wolves by Emily Gravett
Library Lion by Michelle Knudsen and Kevin Hawkes
Lila Lou's Little Library: A Gift From the Heart by Nikki Bergstresser and Sejung Kim
A Child of Books by Oliver Jeffers and Sam Winston
The Word Collector by Peter H. Reynolds
In this guest post, author Dimity Powell writes about the importance of libraries and the effect that one special librarian had on her development as both reader and writer.
I shared some other thoughts about the importance of school libraries here.
Whatever the occasion, books make wonderful gifts. It is often said that a love of reading is caught, not taught. It is caught when children see others, especially significant adults, around them reading for purpose as well as pleasure. One of the best gifts a child can receive from a parent or teacher is a love of reading. Gifting books show that reading and books are valued. I love/d receiving and gifting books. Everyone knows that a rectangle-shaped gift from Norah will be a book, but what joys it will bring are yet to be discovered.
The aim of Book Giving Day is to get books into the hands of as many children as possible. I love the suggestion on the website to leave a book in a public place as a gift for an unknown child. There are free bookmarks and bookplates that can be downloaded to include with your gift, such as these beautiful ones here.
(You might even recognise the names of some of the artists. I have previously interviewed Yvonne Mes about her beautiful picture book Little Bilby's Aussie Easter Egg Hunt here.)
Another suggestion is to gift to charities that support children's literacy. Some are listed on the website; and of course, Library For All with whom I have fifteen books published.
So, even for those who don't have a class or children of their own to gift a book, there are other ways to share the joy. Who knows, a simple gift may initiate a lifelong love of reading.
And for children — why not make a book of your own to gift to someone you love. A gift from the heart is a gift to treasure.
How will you celebrate 14 February?
While you are here, remember to check out the complete readilearn collection of
over 500 teaching resources for the first three years of school
Resources beyond worksheets – lessons for teachers made by teachers.
Let readilearn lighten your workload.
While resources are available for purchase individually, best value comes through an annual subscription which gives access to all resources for a year for just A$25. That's less than 50 cents a week.
If you haven't already, follow @readilearn on Twitter and readilearnteachingresources on Instagram and like the readilearnteachingresources Facebook page.
I appreciate your feedback and comments. Please share your thoughts below.
Follow Blog By Email
---