The CBCA (Children's Book Council of Australia) Book Week kicks off tomorrow 17 August for a week of activities celebrating Australian Literature. Book Week is heralded by the announcement of the book awards on the third Friday in August at 12 noon.
The awards are presented to books in the following categories:
Older Readers
Younger Readers
Early Childhood
Picture Book
Eve Pownall (for information books)
(Click this link to see the Notables, a fine collection of books) from which the Short List was compiled and from which Winners were selected in each category.)
2019 Book Week Theme and Resources
The theme for this year's Book Week is Reading is My Secret Power.
To celebrate, poet Mike Lucas has written a great poem. You can download a copy of Mike's poem Reading is my Secret Power here.
The CBCA website provides these useful links to resources to help you celebrate Book Week.
Children's Rights to Read
Reading may be a secret power, but it is also a superpower and a right of every child. Book Week is an appropriate time during which to reflect upon our classroom practices and consider how well they meet the International Literacy Association's Children's Rights to Read. (You can download and support the rights through this link.)
Celebrating Book Week without Dressing Up
Read aloud to children. Although an excuse is never needed, Book Week provides the perfect opportunity to read, read, and read.
Provide time for children to read independently.
Encourage children to discuss books they enjoy.
Ask children to nominate their favourite book of all time (or of this minute) and to tell what they like about it.
Ask children to nominate a book character they would like to be and to explain why. Encourage them to write their own adventure as the character; for example, if I was …, I would …
Ask children to nominate a book character that is like them in some way. They could fold a piece of A4 paper in half. On one side they draw themselves and on the other, the character. They write labels for similar and dissimilar physical characteristics and list similarities and dissimilarities in personality and attitudes.
Ask children to nominate book characters they would like to be friends, or not friends, with and explain why. Use their reasons to list and discuss characteristics of good friends.
Ask children to nominate books to fit categories; for example:

Books that make us laugh
Books that make us think
Books that help us learn
Books that make us feel sad
Books about animals (Children may suggest other categories.)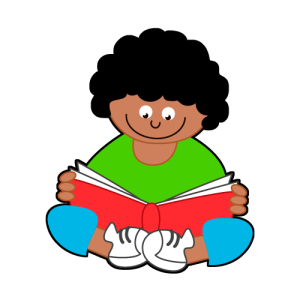 Discuss the importance of reading:
What can children do now that they can read that they couldn't do before they could read?
What will they be able to do when they can read even more?
What would life be like if they couldn't read?
Discuss secret powers and superpowers
Why would reading be someone's secret power?
How would being able to read secretly help you?
What can you do that others don't know you can do? What is your secret power?
What is the difference between a secret power and a superpower?
Develop Reading into a Superpower
Read to children every day simply for the joy of literature. Encouraging a love of books, language and story is the most effective (and not secret) way of turning children onto reading. Yes, they need to be taught the skills, but never at the expense of meaningful and joyous reading.
While children beg for their favourite books to be read again and again, no child ever begs for another session of phonic drills.
However, children do need to be taught about print and how it works, or they will never crack the secret of the reading code. We can ensure that their journey into reading is meaningful and enjoyable though.
Some strategies:
Read aloud every day from a variety of reading material.
Encourage children to take an interest in words by introducing new vocabulary and language patterns through the enjoyment of books and stories.
Help them crack the code of the black squiggly lines with teaching strategies such as shared book, collaborative reading and writing activities, and covered cloze.
Model effective reading strategies and provide children with explicit information about how readers read.
Ensure that reading and writing is meaningful and encourages children to engage with it and make connections.
readilearn teaching resources focus on teaching literacy skills in context and across the curriculum. Check them out here.
readilearn: teaching resources for the first three years of school
Resources beyond worksheets – lessons for teachers made by teachers.
Let readilearn lighten your workload.
Subscribe now for access to all readilearn resources, Register to begin using free resources or browse to purchase individual resources.
If you haven't already, follow @readilearn on Twitter and readilearnteachingresources on Instagram and like the readilearnteachingresources Facebook page.
I appreciate your feedback and comments. Please share your thoughts below.
Follow Blog By Email
---