Just over a year ago, in my very first author interview, when I introduced you to Rebecca Johnson and her award winning Insect Series, I shared the following information about her publications and awards:
Since then, Rebecca's list of publications has continued to grow, including two new series of books:
Vet Cadets "an exciting new four book series for smart, animal and science-loving girls who aren't afraid to get their hands dirty!"
First Facts "designed to give children a clear understanding of the six main groups of animals."
Rebecca's popular junior fiction series Juliet nearly a Vet, for readers from about 7 years of age, continues to attract attention. The series features ten-year-old Juliet who believes she is nearly a vet after watching her mother, who is a vet, at work.
Rebecca's purpose in telling these stories is to blend science with fiction in a way that engages children's interest in wildlife and nature. She does it successfully. In 2014, the fourth in the series Bush Baby Rescue won the Wilderness Society Environment Award for Children's Literature. This year, the most recent title Rainforest Camp received the same award.
The purpose of the environment award is to "encourage children to take an interest in nature and feel a sense of responsibility for the places we love and our unique wildlife."
I'm sure you'll agree that's a worthwhile purpose.
In response to enormous interest in her Juliet nearly a Vet series, Rebecca developed 'Nearly a Vet' Conventions which engage children in story writing as well as in learning about what it means to be a vet. Rebecca hosts the conventions in different locations around Australia. The program is also available in kit form for those who can't make it to a convention in person. (Sorry everyone, Australia only.)
In this post I am speaking with Rebecca about her award winning book Rainforest Camp, with its delightful illustrations by Kyla May.
About the Rainforest Camp
If you were going on a school camp into the rainforest, and you were nearly a vet, you'd take your vet kit with you; wouldn't you? Juliet is nearly a vet and that's just what she does. It's a good thing too. Her knowledge and skills, learned from watching and assisting her Mum who is a vet, are very useful for:
recognising and protecting a bush turkey's nest of eggs
removing frogs from the shower block to safety
explaining the difference between kangaroos and wallabies
rescuing classmates from leeches
finding and caring for an orphaned baby sugar glider
protecting and teaching about the antechinus and its babies
explaining that a glow-worm isn't really a worm.
And she does all this, and more, in just two days!
Children will love this story of Juliet who is empowered by and respected for her knowledge of rainforest animals, overcomes her fear of heights, and calmly demonstrates how to defuse potential bullying situations with kindness. She uses her knowledge to care for others, even those who aren't her best friends, as well as wildlife.
This story would be great to read and discuss with a class before going on school camp. Children will be able to infer guidelines for behaviour that will make a camp as much fun and learning as can be.
Let's begin our interview.
Hi Rebecca, welcome back to readilearn.
First, congratulations on receiving the Wilderness Society Environment Award for Children's Literature for your junior fiction book Rainforest Camp in the Juliet nearly a Vet series.
Rebecca, two books in this series have now won this environment award. Many of your books have a focus on caring for animals and for the natural environment. Why does this feature so prominently in your books?
Because as both a science teacher and a parent, I am concerned for the future and believe in the importance of children knowing about the environment.  If you don't know about something, then you're not going to care about it. We need to heighten children's awareness of environmental issues and problems that our native animals face, and about what is a good way of treating animals. If you don't highlight that, then they won't know about it, and they won't act on it.
I've seen people being cruel and they don't even realise they are being cruel sometimes. It's just a matter of making kids stop and think about what they're doing and to ask themselves, "Is that a kind way to treat something?"
What gave you the idea for the Juliet nearly a Vet Series?
I grew up next to vet.
I always wanted more pets; and there's a limit to how many pets your parents will give you, isn't there?
When I was nine a man and his wife moved in next door. They had a lot of pets and it took me only five minutes to get to know them and their animals. He was a vet and he used to let me come over all the time and hang around and watch what he was doing. It got to the stage when I could look after instruments and he would talk to me and say, "What do you think Rebecca? Do you think we should do this? Or do you think we should do that? Do you think we should bandage it?"
He took me very seriously. He took my opinion seriously and he made me feel like I was nearly a vet. He taught me virtually everything I know about animals. He sparked that interest. We were lifelong friends. He died at the age of ninety-nine just a year or two ago and we were still friends. I used to go and see him all the time.
How wonderful to have someone to encourage you in such a positive way.
He and his wife were such positive role models. She was also a very hands-on kind of woman. There was nothing she couldn't do either, and my mum and dad were just like it too. I was just lucky to be growing up in that village.
What makes the Juliet books so appealing to young readers?
I think because there is nothing in there that they can't do. I think that's why kids email straight away and send photos of their vet clinics and their little vet kits they've made and all that sort of stuff, because it's very reachable.
Because I teach science to kids that age, I know what they are capable of. I'm trying to give them the experience that I was given in a lot of ways. I want them to think that they're nearly vets, and that they can be taken seriously.
That's why my vet kits are not toys. I looked on eBay to see if there were kits, before I made mine, for kids who are about nine and who want to do some "vetting" but don't want to use a little tiny children's toy kit. I think it's a good excuse for kids to play vets without being silly. They can feel grown up about doing it.
When I have my vet conventions, I explain that this is all proper equipment that real vets use – it's not a toy; and I train them how to use it. I think that what's been successful about it. It gives them ideas and ways of feeling as if they are being good custodians of animals and being observant of their animals.
I think the humour too. I've tried to make them humorous. Juliet is kind of funny with some of the things she does, and it's an innocent sort of humour.
It's also the strong role models for children. I think it's nice for kids to be able to read books that are relaxing; happy books without a whole lot of tension between characters. There's no real antagonist. While there's the occasional antagonist, it's usually the science problem that is the antagonist, so it's not all about kids behaving and treating each other badly. It's more modelled on loyalty and teamwork and friendship so I think kids come out of them feeling happy. It makes them feel happy.
I agree, Rebecca. Not only is Juliet confident in her ability, the children and the adults respect that in her too.
It's not all about Juliet. Juliet is quick to compliment others as well. They are loyal to each other and loyal to their families. The Vet Cadet books are basically about those girls a little bit older at that difficult stage for girls in grades seven and eight when there's a lot going on between them. I don't think we need to model girls fighting. We need to model what loyalty looks like, not dumping your best friend for the new girl. I feel incredibly passionate about that and I think that's one of my main motivations as well. As well as the animal theme, it's the relationships.
What is the environmental message you hope readers of Rainforest Camp will take away?
Acting responsibly when they see an animal in difficulty, and knowing the right avenues to take. Knowledge is power and if you can instil in kids that these animals are not pets and they're not something you should just take home and give a bowl of milk.
The whole idea is teaching them the correct way of handling animals. It's fiction science, not science fiction.
It's basically teaching kids the right way to handle situations with animals, about having enough humour and enough fun characters that it doesn't feel like just a stream of science. They're learning about it without even realising they're learning about it. And they do. Children send me pictures all the time of their pages of notes they've done.
How rewarding that must be for you, Rebecca. Thank you for talking with us about Rainforest Camp. We love how you are writing stories to empower girls, promote STEM education, and encourage children to care for the natural world. We wish you continued success with your publications.
You can listen to snippets of the interview with Rebecca below or on her Author Spotlight page here:
To find out more about Rebecca and her award-winning books visit her website at rebeccajohnson.com.au.
You can find out about and purchase her Juliet nearly a Vet Rainforest Camp and other books on her website.
Connect with Rebecca on Facebook
Gift suggestion: The Nearly a Vet Kit would make a great gift for a special child in your life. Complete the package with one or more books from the Nearly a Vet series.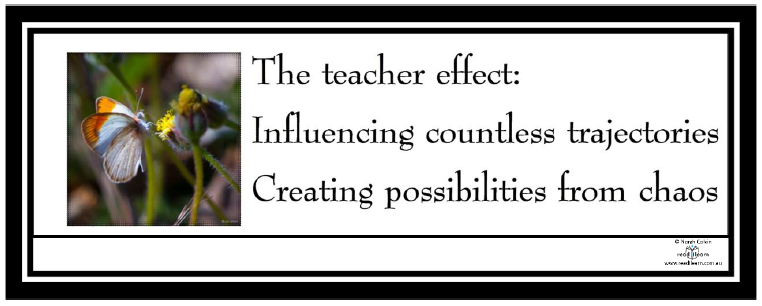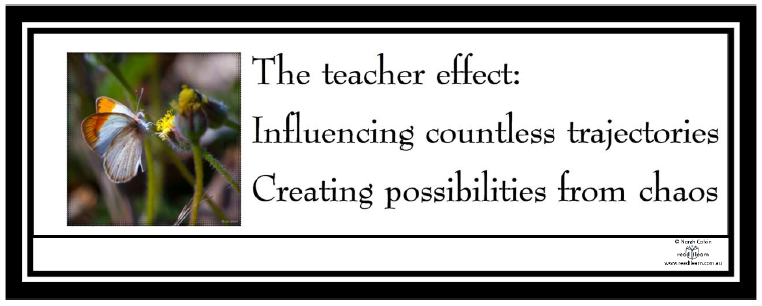 With World Teachers' Day just a few days away on Thursday 5 October, now is a great time to thank all our wonderful teachers, including Rebecca, who make such a valuable contribution to the future of our planet.
(Note: This bookmark a  free printable readilearn resource. Access it here.)
If you are looking for something other than a box of chocolates with which to show your appreciation, why not gift a subscription to readilearn – a gift that goes on giving all year long.
Contact me for details,
or reward yourself with a collection of resources designed to lighten your workload.
Subscribe now for access to all resources.
I appreciate your feedback and comments. Please share your thoughts in the "Leave a reply" box below.
If you enjoyed this post, follow by email to make sure you don't miss another.
Follow Blog By Email
---