Since its inauguration in 1999, World Space Week has been celebrated each year from 4 to 10 October. Its purpose is to celebrate the "contributions of space science and technology to the betterment of the human condition". The dates were chosen to commemorate the launch of Sputnik 1 on 4 October 1957 and the Outer Space Treaty signed on 10 October 1967.
This year's theme is "Remote Sensing: Enabling Our Future" which focuses on the contribution of observations from space to our knowledge of the world, including our ability to
monitor changes in the environment, and
understand and predict weather patterns,
which in turn assists planning for agriculture and helps to prepare for weather events.
World Space Week has a free downloadable Teacher Activity Guide for classes from K – 12. While many of the activities are more suited to older students, there are some that can be adapted for the early grades.
There are no particular requirements for participation. You choose how to involve yourself and your students. Or, better still, introduce the topic to the children and see where their questions and suggestions lead. Contemplating the skies and what lies beyond has excited imaginations since the beginning of human time. Why not give your children the opportunity to wonder, imagine, and create?
If you have neither the flexibility nor the time to explore "space' in depth, here are a few suggestions for incorporating learning about space in your busy program:
Cover a large display board or wall with dark blue paper. (Each child could paint a piece of A3 paper to contribute to the background.) Add the children's wonderings, questions, ideas, suggestions, pictures, and writing to the display.
Ask children what they wonder about space, and record their wonderings. Many of their wonderings will match those of philosophers and scientists throughout history; for example, "Yen wonders if people live in outer space. Jan wonders what Earth looks like from space. Margot wonders how long it would take to get to the sun." This is not a time for answers. It is a time for questions. If children are writers, you could supply them with (star-shaped) sticky notes on which to write their wonderings, one per note. Display the wonderings.
Record what children want to know about space. This is also a time for questions, and not for answers. There will be time for answers later. It is important for children to know that their questions are both valid and valued; for example, "Marcos wants to know what happens to the stars during the day. Tejas wants to know where the sun goes at night."
Record what children already know, or think they know, about space, space exploration, and the night sky.
Encourage children to imagine "What do you think it would be like to travel into space?" "What if you could touch the stars?" These imaginings could be used as a springboard into writing, but opportunities for talk and sharing of ideas are essential.
Read non-fiction books about space and space exploration.
Read stories about space.
Compose a collaborative space story. Begin the story and ask each child in turn to add the next sentence.
Provide paper, drawing implements, and collage materials for children to use for creating a space picture.
Provide boxes, tubes, and other loose parts for children to use for constructing space objects.
Sing songs about stars e.g. Twinkle Twinkle Little Star, Star Light Star Bright, Catch a Falling Star.
Write star shape poems, space haikus, or space acrostic poems. (For information about writing poems, refer to the readilearn resource Writing Christmas poems).
Host an evening of observing the sky. Invite an astronomer to talk about objects in the night sky or use apps such as Night Sky to identify the objects.
I have presented this information in pdf and made it available as a free science resource: 20 Quick ideas for teaching and learning about space.
Coinciding with World Space Week is World Teachers' Day on 5 October. I wish all teachers a happy day and acknowledge the wonderful work that you do in inspiring our young people.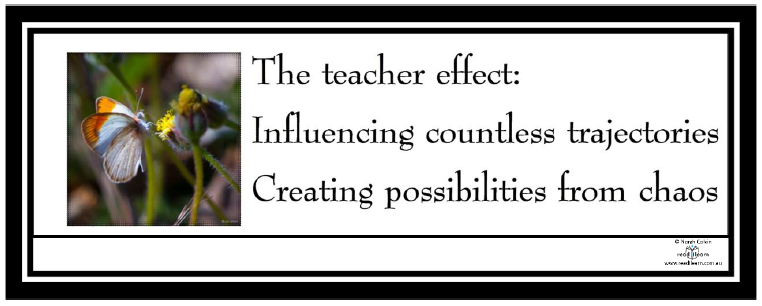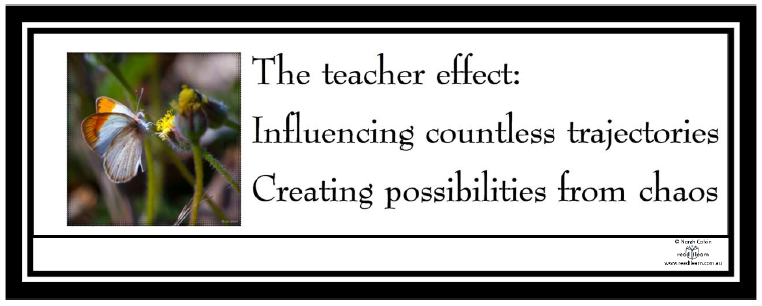 (This bookmark is available as a free printable Classroom Management resource: The teacher effect – bookmark.) 
Remember, if you haven't yet subscribed, an introductory discount of 20% is available to all who subscribe this year. Just use the coupon code welcome1 at the checkout to receive your discount.
Please contact me if you have any questions. I welcome your feedback, especially suggestions for improvements to existing resources and ideas for new ones.
I'll see you next week. In the meantime, enjoy the weekend.
Thank you for reading.
Happy teaching and learning,
Norah
You can contact me:
via email hello@readilearn.com.au
via the Contact page
on Twitter @readilearn or @NorahColvin
on Facebook @readilearnteachingresources
on my other blog NorahColvin.com
I invite you to rate and review any resources you use, and to share information about readilearn on social media.
---